About this book:
A genre-defying, continent-spanning saga of Korean myth, scientific discovery, and the abiding love that binds even the most broken of families.
Elsa Park is a particle physicist at the top of her game, stationed at a neutrino observatory in the Antarctic, confident she's put enough distance between her ambitions and the family ghosts she's run from all her life. But it isn't long before her childhood imaginary friend—an achingly familiar, spectral woman in the snow—comes to claim her at last.
Years ago, Elsa's now-catatonic mother had warned her that the women of their line were doomed to repeat the narrative lives of their ancestors from Korean myth and legend. But beyond these ghosts, Elsa also faces a more earthly fate: the mental illness and generational trauma that run in her immigrant family, a sickness no less ravenous than the ancestral curse hunting her.
When her mother breaks her decade-long silence and tragedy strikes, Elsa must return to her childhood home in California. There, among family wrestling with their own demons, she unravels the secrets hidden in the handwritten pages of her mother's dark stories: of women's desire and fury; of magic suppressed, stolen, or punished; of the hunger for vengeance.
From Sparks Fellow, Tin House alumna, and Harvard graduate Angela Mi Young Hur, Folklorn is a wondrous and necessary exploration of the myths we inherit and those we fashion for ourselves.
Release Date: 27th April, 2021.

What I think?
Madness is like a muscle though—if you don't use it, you lose it.
Well, in hindsight, maybe I really should've heeded the words of the publishers, calling this piece of literature a genre-defying saga, because let me tell you something, if you don't think a 6 chapter long novel could be a saga, then you definitely haven't read Folklorn.
Allow me to explain. (⌒▽⌒)♡
It has been some couple years now since I've started reading South-Asian and Southeast Asian novels, pretty exclusively, and maybe we'll get into the whole "attaching myself to the stories from the Western societies, as a way to feel included in a demography, when your teenage self feels out of place in the rag-tag society of Mumbai" thing some other time, but I'm an old lady now- practically 23 if I am to be more precise, I crochet and everything, just so you know- and in my old age, I have found myself more and more drawn to the cultures of my land, and the lands surrounding mine, because, and I am getting hopelessly sidetracked here, I find it brilliantly fascinating how all the cultures of South and Southeast Asian countries are so entangled with each other. But I that's neither here nor there.
Moving on. 
What drew me to this book, was first, it's cover, because I am a totally shameless hussy for gorgeously designed covers, and that cover, with it's brush painted aesthetics was calling to my weak weak soul. Secondly, there was the blurb: the "particle physicist" immediately stood out to me, as an aspiring particle physicist myself- hello nice to meet you- and the fact that there was a subtle promise of a strong underlying psychological trauma under all the science-ey stuff, which yours truly, truly loves. And thirdly, there was the myth. I. Love. Myths. I grew up on myths (I mean you're kind of bound to do that, if you grow up in India, but I digress), and I fell in love with reading because I couldn't get enough of myths, and last year when I fell out of love with reading, it was mythologies that got me back. So yeah. Myths. Σ>―(〃°ω°〃)♡→
I've engorged myself on a lot of myths from a lot of different cultures- there's obviously the Indian ones, and then the Greek and Roman ones (they're a rite of passage for all myth lovers, I guess), and in the last year or so, I fell for the Chinese, Japanese, and Vietnamese ones. I'd never read any Korean myths, and so, I was totally primed and marinated to fall in love with this book. 
And fall in love, I did- but a little strangely. (⁄ ⁄>⁄ ▽ ⁄<⁄ ⁄)
Let me elaborate.
I'm not treating myself medically. I'm curing myself with symbol and ritual, the only way to fight mystery and magic.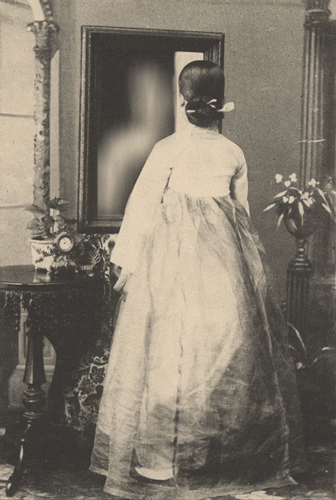 Dr. Elsa Park, an experimental particle physicist, is at the South Pole, working on collecting data, like you do, when she sees her childhood friend, or should I say, her childhood imaginary friend, and decides to follow her into the rabbit hole, that is learning to live through the grief of her mother's death.. and the aftermath of her life. 
We are introduced to four major characters here aside from Elsa- Chris, her brother; Oskar, her future-lover and permanent myth google; her father; and her imaginary friend, and her mother by extension. 
As children of two Korean immigrants who are war survivors, both Elsa and Chris at once mirror and play foil to each other. At first glance, we can see them as the two sides of a coin, where one is a particle physicist at the peak of her career, and the other a middle-aged, schizophrenic bum. But when you look closer, you realize which one is living, albeit painfully, in reality, and which one tends to escape into their heads; I'm sure you can read between the fine lines here. But despite all that, they are faces of the same coins, and that is shown in their shared trauma and grief, and incapability to form healthy human relations. It becomes evident in their views on family. 
Maybe once I find the stories, my guilt—this walking, talking, braided manifestation of it—will finally leave me be.
This whole book is a giant commentary on how debilitating repressed grief is, and, I won't lie, also a guide on how to irrevocably fuck up your kids. Like seriously, Mommy and Daddy Park do a fantastic job of it- till the very end: their father, through his abuse- first physical and later emotional, and their mother, through her stories that take a life of it's own, leeching off of theirs in turn. 
There was no one perfect in this story- not Elsa, and not her ghosts. And I think that is the point, to not love them for being perfect, but to empathize. And this, Hur does through the myths, that are told from so many different perspectives: her mother's that shows the tragedy of the tales, and how women across all ages were sacrificed for one reason or another, be it love or greed, how being a woman is living a tragedy; Elsa's, that showed the strength of the women sacrificed, giving them not a delicate shape, but one of a survivor- cruel and ugly and real; and Oskar's, who showed the myths as we might interpret them at first glance, as that of a myth. And seen through these many lenses, the myths gain a life and body of their own, they become as dimensional as any character in the story. 
Do hallucinations dream of reality when they sleep?
Hur delved into a lot of different themes throughout the book- generational trauma, mental disorders, that feeling of being disconnected from one's culture, and not least of all the mythologies that shape those cultures, importance of family, and importance of human connection. And the lot of these were done quite impressively, if you take a moment to stop and think about the book. 
Folklorn is a deeply cogitative, and emotionally gritty tale, that through it's telling, compels you to not only think of the characters and the place they hold in their worlds, but also you, and the place you hold in yours. It seamlessly weaves the magic of ghosts into the trauma of of being haunted by one- both living and dead, and forces you to recognize, alongside the characters, what the most important aspects of living are. 
Also, I really want to take a moment here to commend the writing, which was so metaphorical and fantastical, and if I were to stop spouting poetry- fucking good, that I couldn't discern if it was a story I was reading, or an epic poem. You will know what I'm talking about when you read it. Trust me.
I resurrect Mom's voice, for how can I mourn her if she died a stranger? I dig and exhume for the truth—how to avenge, whom to punish and how.
I am just going to tell you now, that I kinda saw that ending. Like not exactly like Hur unfolded it, but at least the gist of, I predicted. But yes, that ending twist was like a hundred times better than anything I could've imagined. Just saying. I have so much else that I really want to discuss about this book, but it hasn't been released yet, and so I just want you to get marinated alongside me, so that we can later bombard Hur with our discussions (─‿‿─)
So do I recommend reading this? Hell fucking yeah! ☆*:.。.o(≧▽≦)o.。.:*☆
—Get this book—
About this author:
Angela Hur received a B.A. in English from Harvard and an MFA in Creative Writing from Notre Dame, where she won the Sparks Fellowship and the Sparks Prize, a post-graduate fellowship. Her debut The Queens of K-Town was published by MacAdam/Cage in 2007. Folklorn was chosen by Kelly Link for a Tin House novel mentorship through the Tin House Summer Workshop, where Hur also studied with Alexander Chee and Mat Johnson, and later with Peter Ho Davies at the Napa Valley Writers Conference.