About this book:
Oskar used to be Marco's best friend. His everything. His sunshine yellow.
But that was before. Before Marco stopped being a hot jock. Before he learned to live with scars and pain. And before Oskar tore their friendship apart.
Now the boy next door has returned home, determined to rekindle his friendship with Marco, and Marco's more afraid than ever. Afraid of getting hurt. Afraid of being humiliated.
Afraid of falling in love.
Can Oskar find a way through Marco's fear, back into his heart?
True Colors is an enemies to lovers, boy next door, first time, slow burn M/M romance with a generous helping of UST. This no-cliffhanger, HEA book can be read as a standalone.
Release Date: 14th March, 2017

What I think?
So, yeah this was definitely one of the better MM books I've read. The entire plot was to the point without it getting overly cliched. I don't know why that usually bothers me so much, but the fact that the entire MM genre seems to be laden with cliched cute rainbows and shit makes me roll my eyes like hell. It's not like being gay makes the world inherently a ginormous multicolored glitter-ball for you.
Sorry, I'm diverting? Yeah. I tend to do that, but you have to agree with me.
And I know, I sound like an ass talking about the overuse of colors in this genre when this book was based on them, but dude! This was actually different!
As the plot would happen, Marco, a 23? 22? year old guy is kind of scared to come out of the closet, and even worse is the fact that despite being clear about his sexuality, he has never had a relationship, owing to the fact that he has a lot of scars from an accident, and after a disastrous reaction from his ex-best friend Oskar, he feels really self conscious about them, so much so that he never goes anywhere without full sleeved shirts.
Which brings us to Oskar. He had been Marco's friend since forever, and been in love with him for even longer, but when his Marco shows him scars, his grief takes over, and he absolutely loses control over the situation, and in the end panics and humiliates Marco in front of everyone.
That was the past.
The present is where Marco is a grown up adult, and Oskar has moved away from home because it's better because Marco absolutely hates Oskar's guts.
Can't say I blame him.
If say, I have some lingering horrible scars from a really fatal accident and I show them to my best-friend- who I trust more than myself- and he says that he could never be attracted to me because I look like a fucking dalmatian, and refuses to stand up for me when bullies beat me up for them..?
Yeah bitch better look out, because someone's gonna be dead soon.
So aye, I agreed with Marco's reason to hate him. Hell I even supported him.
But then Oskar showed his real self. He felt really guilty for panicking and abandoning Marco all those years ago, and pretty much grovels in front of him. Grovels really good if I might say so myself. I enjoyed that especially after I knew what he had done in the first place.
This whole story takes place over the course of a few months, as they rehearse for a play that Marco's mother had written before her death, and mend their relationship. Marco learns to forgive and forget, and start to not only love Oskar for the man he was, but also himself, despite his scars.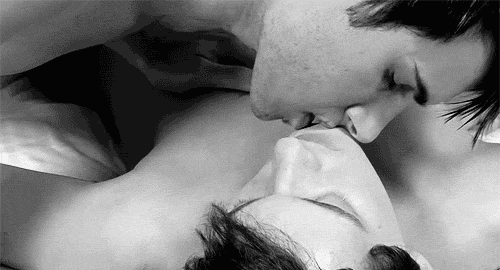 It's a really really good finding-yourself, hate-to-lovers story, with a really well plotted story arc. It skirted between adorable, and angsty, and isn't that just the perfect blend you want to read in a book? And that ending was just beautiful. Really, those last lines in the book were magical, with how the author captured the moment. It was easily one of the most vivid scenes I've been able to see behind my eyes in a long time. And so for that, I have to commend her. It's her first book I'm reading, but there's another book in this series, and I'm really going to check the other one out soon. Need some Ben and Sebastien💋
His other color is uncertain. It's not rust anymore though. Perhaps gray for now, while we muddle through this new transition of "us".
—Get this book—
About this author:
A bit about her: she's a big, BIG fan of slow-burn romances. She loves to read and write stories with characters who slowly fall in love.
Some of her favorite tropes to read and write are: Enemies to Lovers, Friends to Lovers, Clueless Guys, GFY/OFY, Bisexual, Pansexual, Demisexual, Oblivious MCs, Everyone (Else) Can See It, Slow Burn, Love Has No Boundaries.
She writes a variety of stories, Contemporary MM Romances with a good dollop of angst, Contemporary lighthearted MM Romances, and even a splash of fantasy.